Voici la description d'une cubical quad 11 elements que j'ai alimentees en phase comme le montre les images ci dessous . Les antennes etant tres legeres peuvent etre facilements utilisees en portable. Sa particularite est d'etre construite en "tout a la masse" , y compris le radiateur.
This paper describe a stacked 2*11 elements cubical quad antenna optimized for UHF band 432MHz. Its particularity is that all elements are grounded, including the radiator, which is uncommon for quad antennas.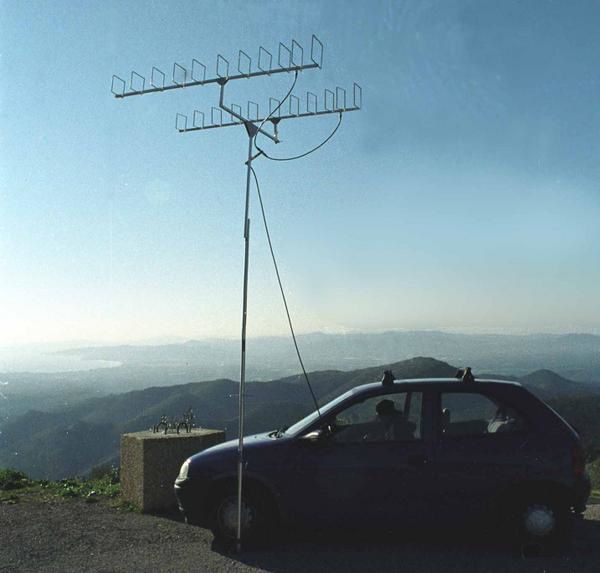 ci dessus un dimanche de contest au mont Vinaigre (Var)
Above a Sunday contest at the summit of Mont Vinaigre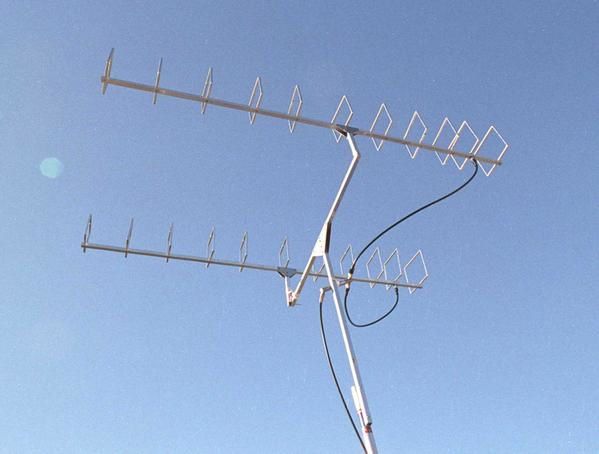 Les dimensions de l'antenne:
Size of the antenna

le boom de 2m est un tube carre de 20x20mm .
La distance entre le reflecteur et le dernier directeur est de 1.97m afin de garder 3cm de marge pour pouvoir visser les elements sur le boom.

Les elements sont des profiles plats d'aliminium de section 11x2mm plies a angle droits et refermes en boucle par un point de soudure TIG . Ils sont visses sur le boom selon le principe "tout a la masse" .

Les elements et le boom sont des profils standart que l'on trouve dans les grandes surfaces de bricolage.

Il est important de respecter scrupuleusement les dimensions et le nombre d'elements pour un fonctionnement correct.
The boom is made of a square profile 20x20mm, 2m long. The distance between reflector and last director is 1.97m in order to keep 3cm margin for the elements screwing.
The elements are made of flat profiles , with a cross section 11 x 2mm making a square loop. It is of a great importance to close the loop through very low ohmic contacts, and to avoid corrosion issues I did a TIG welding as for other antennas.
I hesitated a long time before trying a all grounded elements fixing and was very surprised by the good results, so I decided to keep the antenna as it is now.
The elements size are given below

element Distance Perimetre
(m) (m)
reflecteur 0.0 0.755
radiateur 0.1692 0.736
D1 0.2805 0.704
D2 0.458 0.694
D3 0.646 0.684
D4 0.855 0.674
D5 1.099 0.664
D6 1.290 0.654
D7 1.522 0.644
D8 1.748 0.634
D9 1.970 0.624

Le radiateur

L'antenne a ete concue pour faire directement 50ohm + j*0 au point d'attaque . Il n'y a donc pas lieu de lui ajouter un dispositif d'adaptation d'impedance.
Le point froid de l'element radiateur est termine par un "Y" perce de 2 trous dans lesquels s'enfilent 2 vis de traversee qui servent egalement a la fixation de la fiche N femelle au dessous du boom.
Le point chaud est legerement replie selon la photo pour recevoir une cosse d'electricien. Cette cosse est pliee a angle droit est soudee a un petit tube de laiton qui vient se souder sur l'ame de la fiche N.

Il est a noter que le tube de laiton ainsi que les 2 vis de traversee de masse ne pertubent pas trop le SWR de l'antenne en formant une sorte de ligne de 2 cm de long .
The radiator:
The antenna was optimized on MMANA to reach 50 ohm + j * 0 impedance at the feed point. Nothing else .
For mechanical considerations, the cold point of the loop - I mean the point where the loop is grounded - is terminated by a " Y " shape , that is fixed with 2 screws of diameter 4mm. The other end of those 2 screws is also used to fix the ground of the N connector. The 2 other holes of the N connector ground are not used and were grinded.
The hot point of the loop is connected to the hot point of the N connector tusing a small copper tube and a screw. This tube is approximatively 3 cm long and cross through a 10mm diameter hole in the boom, and seems have no bad effect on the SWR. Note that this tube and the 2 ground screws make a sort of differential short line , so may be this explain the negligible effect.
The fact to ground one side of the radiator seems to have no effect on the antenna impedance and radiation pattern.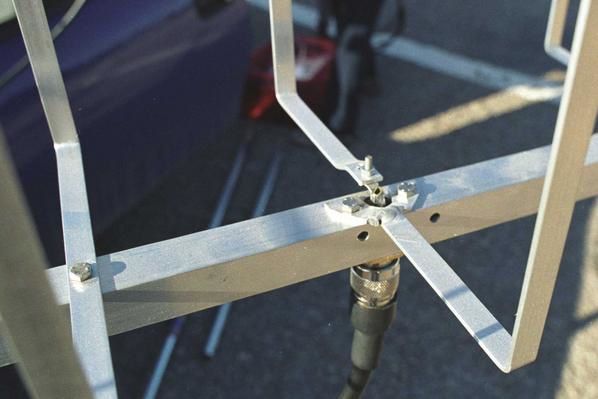 Simulations

L'antenne a ete optimisee et calculee a l'aide du logiciel MMana .
Le gain calcule est de 17.9 dBi pour les 2 antennes stackees et le rapport avant / arriere de 25dB
The theoretical gain is 17.2 dBi for 2 stacked antenna in free space. The stacked distance is 1m horizontally between the boom.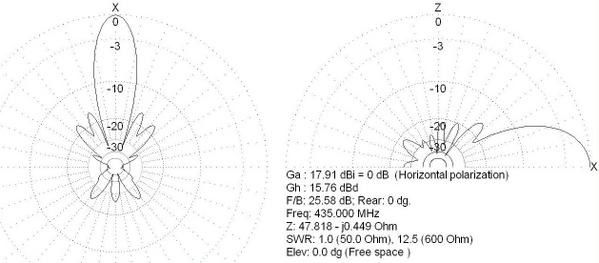 diagramme de raronnement en 2 dimensions:
( 2 antennes en phase , distantes de 1m)


en 3D: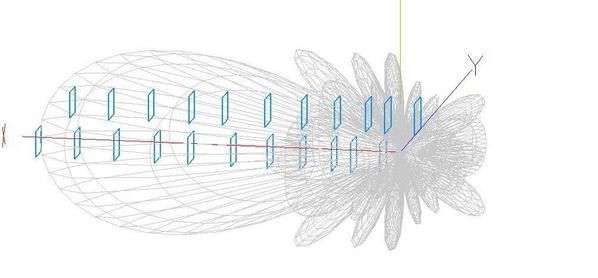 mesure du diagramme sur le repeteur du mont Agel (06) :
Measuring the radiation pattern on the Monta Agel repeater

J'utilise le pupitre du rotor pour les mesures d'angles, et le S-metre du IC706 MK2G pour les mesures d'amplitude, donc la precision est tres approximative. L'echelle ci dessous est en dB, obtenus en supposant q'un point S du recepteur equivaut a 6 dB.
L'environnement urbain du QRA et ses reflections ne facilite pas les choses.
The measurement is done from my home under urban conditions, with a lot of buildings around, so many reflections.
The amplitude scale is given in dB , calculated from the S-meter of my IC706, assuming 1 S-point equivalent to 5 dB
The maximum lobe at 40 to 50 degree is in line with the direction of the repeater.